On and Off the Wall
If you stop by the Foundry Art Centre during the month of May, you will see the result of a collaboration between myself and ceramic artist (and next-door-studio neighbor) Laura Hohn. Our exhibit is sharing the front wall at the main door during the Form and Function exhibit which opens this Friday May 6th at 5:30. I have four Nuno-felt wall hangings on display and Laura has a pitcher and cups as well as a flower brick. These are the largest pieces that I have made with the longest being nearly 8 feet.
I learned so much from Laura about her craft as we shared the process of making pieces that would complement each other's work. My usual method of choosing colors for a project went out the door quickly as I discovered that for Laura, the colored glazes that she uses are developed and perfected over a period of time and are not easily changed. The limits on my color choices turned out to be a creative boost for me and led to discoveries of new palettes that I will use for years to come.
One of the most interesting aspects of working together has been discovering the similarities in working with ceramics and felt. At first glance, that would seem unlikely given the huge differences in both our materials and our finished work. Though Laura starts with clay and I start with wool fibers and silk much of what we do to shape our work has parallels. We both use carefully controlled amounts of water as a catalyst to begin the shaping of our raw materials. The end of a day often finds both of us covering our work-in-process with plastic sheeting to prevent it from drying out. Both felting and ceramics involves shrinkage as the water evaporates from her pieces in the kiln and the wool fibers form a tight bond during the fulling process in my work. While both of us start with a vision for a piece the nature of both our chosen mediums means that we need to have flexibility to deal with outcomes that differ from our vision and allow that to work for us. The similarity that I was most struck by has been the way that both of us use our hands to shape our work as it develops, rolling, dropping, rubbing and even slapping the clay and wool into the desired form. We also have both been known to break out noisy power tools to help with our process from time to time (with apologies to our fellow Foundry artists and staff.)
The collaboration has been an unexpected and valuable experience for me and I think Laura would agree. We have discussed future projects pairing our "hard and soft" artwork. I hope that you will stop by and check out our work sometime this month and come by studio 20 and 21 to share your thoughts about our project.
Indigo Week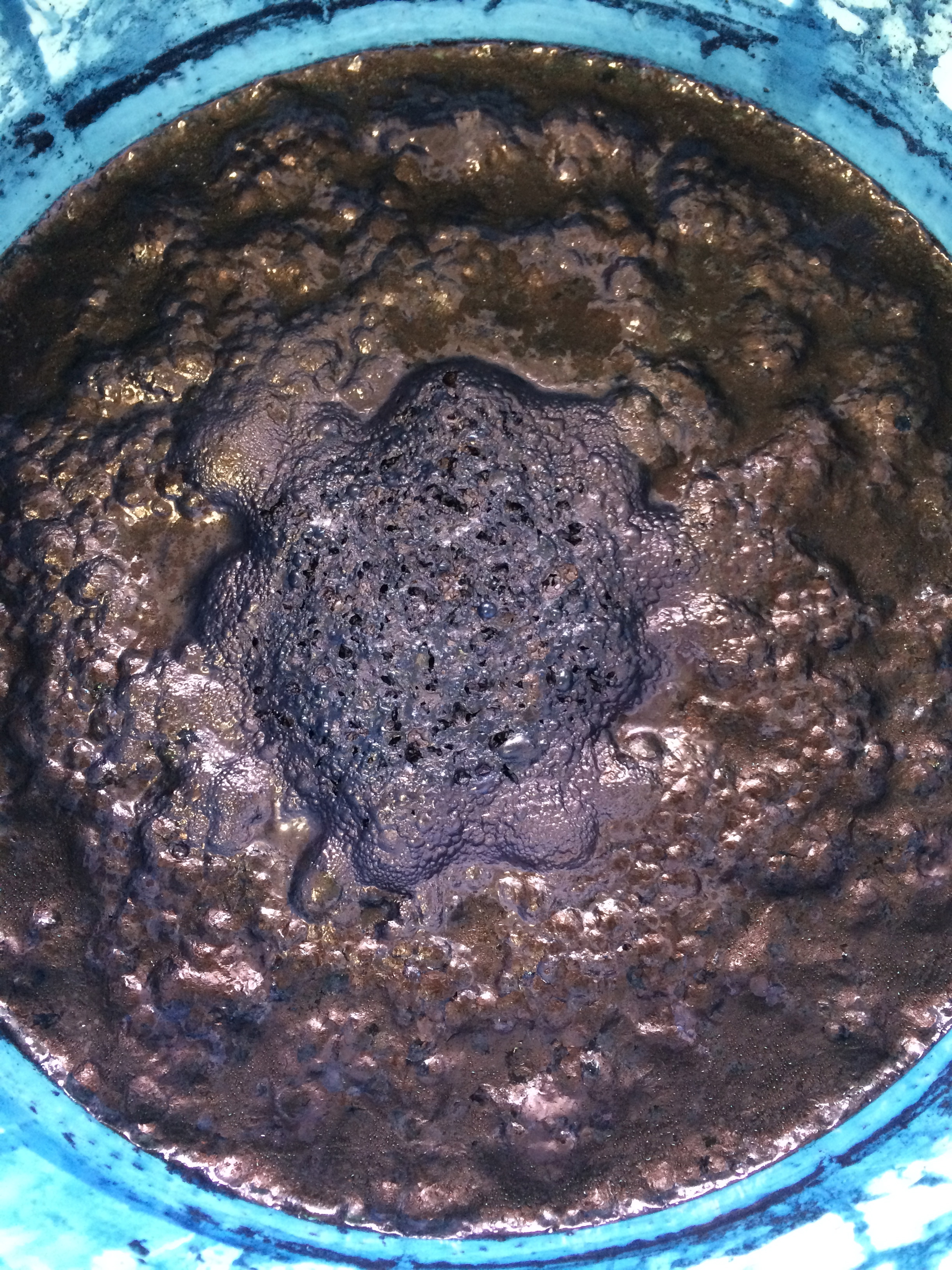 Though it took place awhile ago I wanted to mention a fun happening in my studio. I had a vat of luscious blue indigo dye available for the use by the other studio artists in March. Several made Shibori dyed scarves and we experimented with dyeing paper, leather, and even a gourd. Spring Renee my photographer neighbor took some beautiful photos of the process of making the indigo vat which I hope to have prints of one day. Melissa Whitwam, the Executive Director of the FAC who has an MFA in Fiber Arts, shared her love and extensive knowledge of the history and significance of indigo as well as her own exceptional indigo Shibori work with a group of us. I plan to have another round of Indigo week in the future which will be accompanied by a workshop in indigo Shibori.
Instagram 100 Days of Creativity Project
I am participating in the 100 Days of Creativity Project which has me posting a photo of a small stitched meditative piece each day. As I write this it is only day 14, so I have a long way to go to successful completion of the project. Follow me (@lisaremixedup) and cheer me on as I endeavor to make a creative and intuitive practice a part of my everyday life. Four other Foundry artists are also participating in this project including Spring Renee @littleredhairgirl, Caitlin Metz @Catie_Metz, Natalie Rupp @natalie.rupp.art and Laura Hohn @newspinontradition

Felting Classes & Workshops
I am available most Fridays and some Saturdays starting in June for private classes for up to 3 people. Call (314) 368-5896 or email me: lj.hinrichs@gmail.com to reserve your day. Perfect for beginners or more advanced students; I will tailor a class to your needs. I am planning workshops for August and September so look for more information soon.